Club History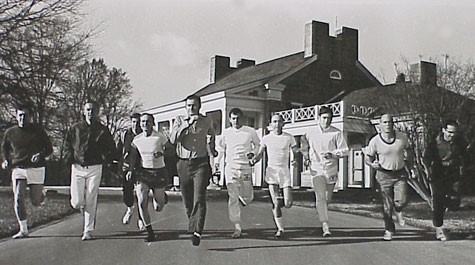 Chattanooga Track Club Founding Members* and fellow runners leaving the Chickamauga Battlefield Park: (1967) Left to Right: Dick Ramsey,Chuck Allen, Charlie S. Gibson*, Jim Beach*, Dan Badcort, Phil Lawrence, Charles K. Gibson*, Abner Oldham*, Earl Marler* and Tom Pride*. Founding members not pictured are Dan Daniels, Joe McGinness, Jon Robere, and Bobby Watson.
Jogging My Memory by Abner Oldham
* Please enjoy the following information told by one of CTC's Founding Members*
I came to Chattanooga in 1962. In order to run a mile I had to go to the old YMCA and run 48 laps around the banked circular track over the basketball court there. Some time in 1963-64 I was invited by Joe McGinness to join a small group of runners running in Chickamauga Park on the weekends. Running was a shadow sport in those days. You didn't really talk about being a runner.
It wasn't until Frank Shorter won the Olympic Marathon in 1972 that long distance running became popular. Back in the mid '60's Atlanta and Knoxville both had track clubs and sponsored road races. Our small group of runners used to go and compete and we did well. We instituted our own Chattanooga Chase 5 miler in 1967 and Chickamauga Chase 10 mile race in 1968. We weren't a club back then and all of us wanted to compete in the races.
We didn't have volunteers back then. I remember I was asked to volunteer to be in charge of the first Chattanooga Chase. There were around 60 runners from Chattanooga and several surrounding cities. We ran straight out Amnicola Highway from Quaker Oats, 5 miles. I put water and cups for runners self service on the course, started the race, drove out to split time the half way point and drove to the finish to call off finish times, award finish places and go home.
Joe McGinness came up with the idea of Chattanooga having it's own track club. A group of the 10 of us met at the new YMCA in mid 1970 and wrote bylaws, formed committees and applied for tax exempt, non-profit status. Officers were appointed to begin their terms at the start of 1971. Earl Marler was our first president. The race committee was asked to organize new races. Out of this the 1/2 marathon, Missionary Ridge, Heart Run and Rock City Road Race came into being.
This group ran at the park on weekends. Not all became track club members initially. Charles K. Gibson held the US marathon record for 50 year olds with a time of 2:42.
Our early years were pretty low keyed. Jon Robere decided to print a one page newsletter which he titled Jogging Around. He used to hand deliver it to those of us working downtown. Running was still either indoors at the new YMCA 24 lap track, in Chickamauga Park or other isolated areas. No one ran on the streets back then. After Frank shorter won the Olympic Marathon in front of thousands of viewers, road racing took off. Female as well as male new members joined by the dozens. We had volunteers to work the races and the club took on a social aspect.
Back in the late 1960's there were few if any women runners who competed in the races. Sue Ann Herring (Brown) was running back then along with Dianne Dillard and Freda Williams. Beverly Ligon, Kate Gerbitz, Brenda Anderson, Kathi Wagner and Louise Guerry started competing in the mid 1970's. In some cases they ran in the races but received no awards. It wasn't until 1978 that the Track Club started awarding Runner of the Year awards to our female runners. While our females were active in supporting roles, it wasn't until 1992 that Rita Fanning became our first female president.
Today we have nearly 500 members, a board of directors and salaried employees and volunteers. Our races attract 500 or more runners from all over the US. We have added races including triathlons and a marathon. We take in thousands of dollars in registration fees and make sizable charitable donations. Its really exciting to me how this all came about.
CTC Founding Members
Jim Beach, Dan Daniels, Charles K. Gibson, Charles S. Gibson, Earl Marler, Joe McGinness, Abner Oldham, Dan Paul, Tom Pride, Jon Robere & Bobby Watson
CTC Past PresidentS
1971 - Earl Marler
1972 - Tom Pride
1973 - Bob Williams
1974 - Dan Paul
1975 - Heinz Weigand
1976 - Doug Hawley
1977 - Jerry Grahn
1978 - Jerry Grahn
1979 - Bill Cheal
1980 - Bill Cheal
1981 - Dan Baker
1982 - Dan Baker
1983 - Bill Branta
1984 - David Hixson
1985 - Pat Hagan
1986 - Pat Hagan
1987 - Bill Pollard
1988 - Frank Machuga
1989 - Frank Machuga
1990 - Stuart Rice
1991 - Gene Pinder
1992 - Rita Fanning
1993 - Rita Fanning
1994 - Rita Fanning
1995 - George Skonberg
1996 - George Skonberg
1997 - Richard Park, Jr.
1998 - Steve Rogers
1999 - Chip Lusk
2000 - Bill Pollard
2001 - Chris LeVan
2002 - Chris LeVan
2003 - Sarah Bowen
2004 - Linda Andreae
2005 - Bill Brock
2006 - Donna Dravland
2007 - Melodie Thompson
2008 - James Williams
2009 - Charlene Simmons
2010 - Sherilyn Johnson
2011 - Bill Moran
2012 - Bill Moran/Chas Webb
2013 - Chas Webb
2014 - Bill Brock
2015 - Sujeel Taj
2016 - John Crawley
2017 - Jane Webb
2018 - Jenni Berz
2019 - Jennifer Heinzel
2020 - Jason Liggins
2021 - Michelle Sledge
2022 - Michelle Sledge
2023 - Anna Millard