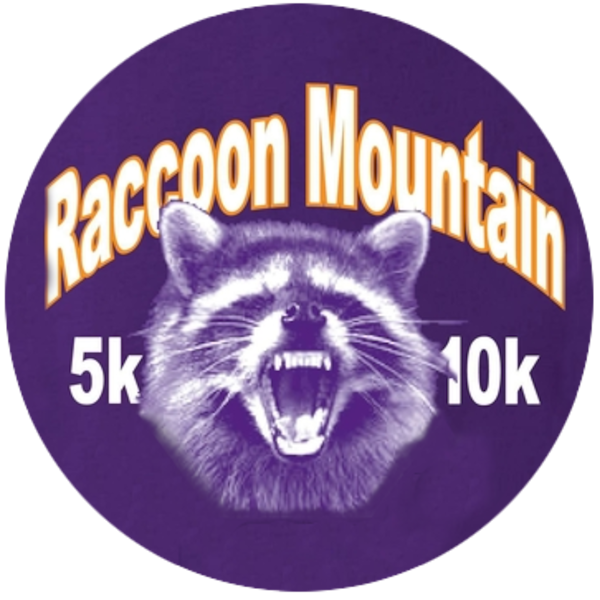 Saturday, February 19, 2022
2022 Raccoon Mountain Road Race
Racoon Mountain 10K is the 2nd ROY race for 2022!
Saturday, February 19
• 8:30 - 9:45 AM Eastern  - Packet pick up & Registration
Please arrive and park at Laurel Point by 9:45 A.M.  There is plenty of free parking.
• 9:45 AM EST - REGISTRATION CLOSES
• 10:00 AM EST - 5k & 10k START
• 11:15 - Noon  -  Awards ceremony, refreshments and door prizes
Sub Events & Pricing
Order by February 1 if you want to be guaranteed a T-shirt. Shirts will be long sleeve, 100% cotton, Gildan G240 6oz (thick). The order for T-shirts will be placed on February 2.  A very limited number of extra shirts may be ordered, but there will be no reorder. 
T-Shirt Update
We ordered a limited number of extra T-shirts on February 2.   As sizes sell out, they will disappear from size options available.  If your size is not available, you can trade for a different size after the race if all shirts are not claimed.   If your size is not available and you do not want to risk having to take the wrong size, opt-out for a $5 discount.
Inflation? What inflation?  We are using the same affordable Raccoon Mountain prices as pre-pandemic 2019 !
5k - 21 and under $10.00   with shirt
5k - 22 and older $25.00     with shirt   Race Day Price $25.00 with no shirt 
10k - 21 and under $10.00  with shirt 
10k - 22 and older $25.00  with shirt  Race Day Price $25.00 with no shirt 
As of February 14, there are no T-shirts remaining.  $5 has been deducted in the registration system from each of the pre race day registration prices shown above.  A few people registered on Feb 13 and 14 without having the opportunity to either reserve a shirt or deduct $5 due to not having shirts available.  Those few will have $5 refunded when they pick up their bib numbers.  
If extra shirts become available on race day, they can be purchased for $5.
Cash, checks, and credit cards will be accepted Saturday.
OVERVIEW
The Raccoon Mountain Road Races are USATF Certified 5k and 10k races sponsored by the Chattanooga Track Club, taking place at one of the most scenic, quiet, and peaceful race courses in the region. The course is entirely on roads within the TVA reserve, meaning vehicular traffic will be minimal. Most of the race circles a 528 acre lake, with a portion of the race run on the largest rockfill dam ever built by TVA, 8500 feet long and 230 feet high. From the dam, spectacular views of the Tennessee River Gorge toward the west and Lookout Mountain toward the south make this race unique.
WHY CHANGE RACCOON MOUNTAIN TO A WINTER RACE?
Over time, several Chattanooga Track Club 10k races have drifted into the September / October time frame, while a huge winter void has remained on the calendar.  Logistically, with Raccoon Mountain in September, we always had to keep our fingers crossed right up until race morning, hoping that TVA would unlock the gate at the top of the mountain timely as promised to give volunteers time to finish setting up the course.  Moving Raccoon to February gives CTC a winter 10k!   Raccoon was the perfect race to move, because it allows us to start the race later, mitigating the possibility of a nightmare scenario of cars lined up onto Elder Mountain Road waiting for the gate to be unlocked!
START TIME
Both races start at 10:00AM Eastern.  Since all vehicles must travel over the race course to reach parking at the start / finish line, all spectators and runners should be parked at Laurel Point no later than 9:45AM Eastern.   For the safety and enjoyment of participants and volunteers, vehicles may be delayed intermittently if traveling on the course to and from the start/finish line between 9:45 AM and 10:30 AM Eastern.
DIRECTIONS
There is not a street address for the start/finish line.  For navigation, use 541 Browns Ferry Road (Chattanooga), turn onto Elder Mountain Road, and follow signs. The start line is approximately 12 miles from downtown Chattanooga. From Chattanooga, take I-24 westbound around Moccasin Bend to exit 175. Turn right, drive 0.9 miles on Brown's Ferry Road and turn left onto Elder Mountain Road at the Brown's Ferry Food Mart. Follow Elder Mountain Road 1.8 miles up the mountain, then turn left at the Raccoon Mountain Project entrance. Follow signs to Laurel Point. Map coordinates for Laurel Point are 35°02'42.5"N 85°25'01.0"W
PARKING
There is plenty of free parking at the start / finish line at Laurel Point.   TVA requires that we not park on the grass and will bill the Chattanooga Track Club for the costs of repairing any damage caused by parking on the grass.  So, please park in the paved lots.
COURSE DESCRIPTION
Both courses are USATF certified.   Start and finish line is at Laurel Point.  For 5K and 10K, there is a climb to the dam at the end of mile 1 and corresponding downhill in the last mile. Mile 2 of the 5K is completely flat (on the dam). For the 10K, there are three or four additional hills, two of them significant. The first significant hill begins at the end of the dam at the 1.5 mile mark and rises gradually for about 0.6 miles. The second, beginning at the 3.2 mile mark, is 170 feet uphill over 0.55 miles and is one of the better known hills in Chattanooga area races. After the 3.8 mile mark, the course is almost completely downhill or flat. 
OPTIONAL T-SHIRT & BIB# PICK-UP
There will optional bib# and T-shirt pickup Friday afternoon, February 18, at CTC headquarters, 1014 Dallas Road (Suite 101) from 3:30 to 6 pm.  (From downtown Chattanooga, cross the Market Street bridge and continue straight on Market.  At Northside Upholstery, the road will turn slightly to the right and become Dallas Road.   Continue on Dallas Road 0.4 miles past Circle K and Guardian Storage Centers.  CTC is in the first building on the right past Guardian Storage.)
If it is inconvenient for you to come to early packet pickup, there will be plenty of time Saturday morning at the start / finish line to check in and pick up your bib and T-shirt.  T-shirts will be set aside Saturday morning for pre-registered runners who have ordered a T-shirt.
RACE CANCELLATION POLICY 
If the race must be canceled for any reason (most likely inclement winter weather), the race will not be rescheduled and there will be no refunds.  Our permit from TVA only allows us to use the facility on February 19.  Most costs associated with the race (such as T-shirts, awards, and TVA's fee for use of the facility) are up-front costs which will be incurred even if the race cannot be held, thereby preventing us from offering refunds in the event of cancellation.
RACE UPDATES - IMPORTANT
Please provide a phone number for text messages in the event late updates regarding the status of the race are required. Pre-registered runners providing a valid email address also will be emailed any important information regarding the race as soon as information becomes available.  All runners should watch the CTC's Facebook page (CTC On the Go!) for ongoing updates regarding door prizes and other interesting information regarding the race.  
BENEFICIARIES
The Chattanooga Track Club is a non-profit 501(c)-3 corporation.  The race director is a volunteer who does not receive a fee for directing the race.  Any limited net proceeds after expenses will accrue to the Chattanooga Track Club.