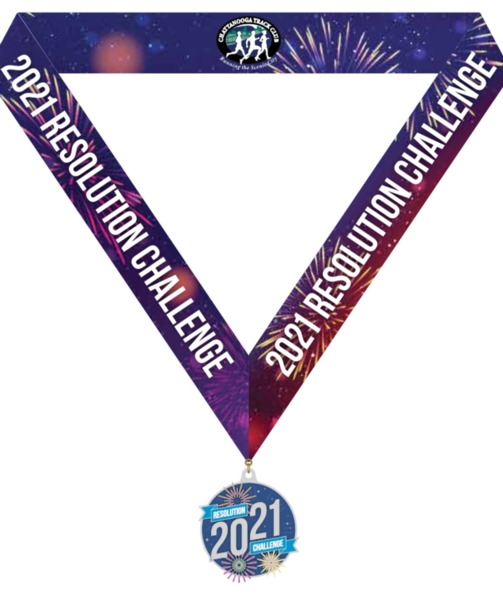 Saturday, January 23, 2021
CTC 2021 Resolution Challenge
The Chattanooga Track Club is a non-profit running organization. We are committed to promoting health and fitness by putting on high-quality races and providing charitable donations to many other local non-profit organizations. Join the Chattanooga Track Club in our winter fundraiser. We are sponsoring the CTC 2021 Resolution Challenge. Let the Chattanooga Track Club help you meet your 2021 goals!

Here is how it works:
1. Choose a challenge (25, 50, 75, or 100+ miles) to complete over 50 days January 23-March 13.
3. Register at racectc.org
4. Participants will be provided with a link to submit their miles.
5. All registrants will earn a Resolution Challenge medal.
6. Medals will be available for drive-thru pickup at the CTC office, or medals can be shipped for an additional $7.00.

The Chattanooga Track Club will be there to cheer you on along the way. Challenge participants will have access to a Facebook group exclusive to participants. The club will provide daily running tips, announcements, weekly running incentive prize drawings, and many celebrations. You don't want to miss out on the fun. Sign-up now at racectc.org! Are you up to the challenge?

Registration: Early bird registration $28 until 11:59 PM January 22. Prices increase to $32 on January 23.
Start times:
12:00 AM - 25 Miles Challenge
12:00 AM - 50 Miles Challenge
12:00 AM - 75 Miles Challenge
12:00 AM - 100+ Miles Challenge
Race director: Jason Liggins
Location: Anywhere USA, Anywhere, TN, 000000
---
Event Schedule
Saturday, January 23
12:00 AM - 100+ Miles Challenge
12:00 AM - 25 Miles Challenge
12:00 AM - 50 Miles Challenge
12:00 AM - 75 Miles Challenge
---
Events & Pricing
25 Miles Challenge - Registration Fee
$32.00
50 Miles Challenge - Registration Fee
$32.00
75 Miles Challenge - Registration Fee
$32.00
100+ Miles Challenge - Registration Fee
$32.00